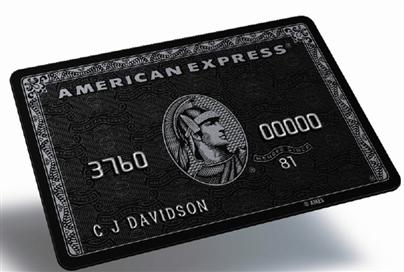 In December 2008, American Express sent out invitations for the Centurion Card in Canada. The invitation eligible, includes about approximately 274,000 consumers, or 2.7% of the population. In Canada the qualifiers are a bit different than in the US, and requires that eligible candidates have
at least $1 million in financial assets, excluding collectibles, homes, cars, and general consumer goods. That is, you need to have $1 million in liquid assets, or cash.
Despite economic turmoil, Trevor Van Nest, VP of Consumer Card Marketing @ American Express Canada says "We had sweaty palms, but the response has exceeded expectations," and that although "There has been a slight dip in spending, but the absolute dollars are still higher than any other market," and their targeted cardholders spend "several hundred thousand dollars a year [on their credit cards]."
The Canadian Centurion Card, or Black Card, similar to the US, is made from titanium, requires a one-time initiation fee, annual membership fee of $2,500. The benefits on the card itself, for the most part match that of the US Centurion Card, although severely lack when it comes to US travel benefits which include elite status on multiple arlines (Continental, Delta, US AIR, Virgin Atlantic). VIP Shopping priviledges (personal assistant, after hours shopping, free gift wrapping and alterations). at retailers including: Harry Rosen, Bergdorf Goodman, Harvey Nichols, Harrods and Saks Fifth Avenue.
The American Centurion Card in Canada now competes with the Visa Infinite Black Card launched by RBC and CIBC in March 2008, which includes typical luxury credit card benefits, has an annual fee of $120, and requires cardholers have a minimum household income of $100,000 CAD.