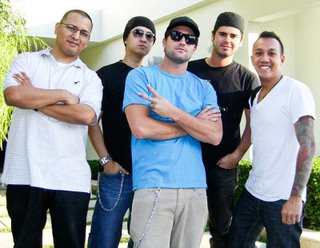 "He's the only 24-year-old kid I know who has a Black Card," Jenner told Details in 2007.
Hills MTV show star Brody Jenner, Spencer Pratt have  close ties to Jared Najjar the third member of their entourage known as "Godfather". Jared, heir to a real estate fortune believes in the Brody Jenner brand, now futher being built by MTVs upcoming series Bromance (where guys compete for Brody's friendship). Brody and Spencer have an impressive list of cars including the Rolls-Royce Phantom, Bentley Turbo, and a Mercedes G55 (MSRP: $105,275), all funded by Jared Najjar. Further, Jared, invests in Brody's brand Archangel, featuring high-end punky pieces such as a $92,000 skull-and-diamond wallet chain.
Jenner and Pratt also manage a rapper, Ya Boy, who is "blowing up on MySpace." Neither of these endeavors is generating any real income, but they are turning Jenner and Pratt into obscenely TV-worthy entities—and this, Pratt hopes, will be the income generator. They recently sold a show about Jenner's love life to MTV.