Mao Zedong, standing on a box of Dom Perignon, with the American Express Black Card/Centurion Card in his hand. As a strong status symbol in popular culture it is not surprising that the Black Card is emerging in Art work.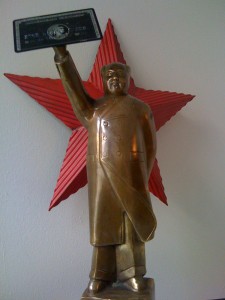 "Getting Rich is Glorious"
– Deng Xiaoping
About the Artist:  R. Lloyd Ming
R. Lloyd Ming uses photography, video art, installation and sculpture to ask hard questions about society. He is inspired by artists who use found or readymade objects to create their work and Ming typically also works in this way. Notable influences are Marcel Duchamp, Subodh Gupta, Ai Weiwei, Fred Wilson, Haim Steinbeck, Joseph Cornell, Louise Nevelson and Felix Gonzalez-Torres. Ming is particularly influenced by the work of American artist Robert Rauschenberg. Throughout his career Rauschenberg used objects he found on the street to make sculptures he called combines.