American Express Centurion Card Frequently Asked Questions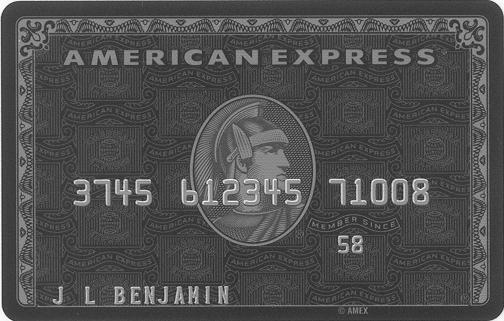 What is the black card?
The black card is a high end credit card available from American Express similar to the Platinum card, however, it has extended special benefits (see the benefits guide).
Did the card start out as a rumor?
Yes, the card began as an urban myth. "It wasn't true, but we decided to capitalize on the idea anyway," according to AmEx Europe director Doug Smith, see how-to-guide history section.
Is it true that the card is made out of titanium?

Yes, Initially the card was made out of plastic, in limited areas in Europe in 2004, and wider adoption in 2006 American Express replaced cardholders cards in the US with a titanium version.
Does the titanium version go off in metal detectors at airports?
No, the card does not typically set off airport metal detectors.
Is it true that there is no limit?
No, there is a limit set based on cardholder account history, credit history, and cardholder assets.
When are payments due?
Payments are due at the end of every month like a normal American Express Green, Gold, or Platinum card. It is not a "normal charge card" that allows payment over time.
How do I get one?
In short, if you are not a famous or some sort of icon, you need to have an American Express Platinum Card for 1 year, and spend 250,000 in a rolling 12 month period. See our how to guide for more detail.*****As of October 2009 the Centurion Card is Invitation Only.
What are the fees?
In the US, $5,000 initiation fee, $2,500 annual membership fee, $1,500 per additional card member fee. That means that $7,500 is due in the first billing cycle after first receiving the card.
Can I keep my American Express platinum card for free?
Not in the US currently, if you want to keep your platinum card you will need to pay that membership fee as well, this is waived in certain parts of Europe.
Can I upgrade my platinum card account to centurion card from a Credit Report perspective?
No, you will receive a new card number and entry on your credit report, even though your Platinum card can be upgraded.
Can I keep my credit card number when upgrading from Green to Gold to Platinum?
Yes, you can maintain the same American Express card number when upgrading from Green -> Gold, Gold -> Platinum, or Green -> Platinum.
Can I keep my credit card number when upgrading to Centurion?
No, you will be assigned a new credit card number (notice the typical 37xx sequence).
Is it true the Centurion card can be declined?
Yes. Popular culture has you believe sky is the limit with this card, but just like any other credit card, it can be declined for a number of reasons, including security, non-payment, overages over normal spending habits.
Will I be upgraded when I check into a hotel and just show my card?
Typically not, despite what some may allege. There may be exceptions to the rule, but although the card carries significant status, the benefits come from the programs provided in the membership, see the benefits guide.
What about getting into Clubs, VIP Access and Bottle Service?
The card carries heavy status in the US, usually more so on the west coast in places like LA and Las Vegas, but less so on the east coast in places like NY (see NY Centurion Card Member favorites); This being said, the Centurion Concierge may be able to help you get into places otherwise off-limits, however, don't expect this experience to be free. Also don't expect that you will be able to flash you card and get in, you should simply expect that you will get what you pay for, and the card tells Club and Bar owners that you are willing to pay for a lot.
Many have said that American Express is working to generally improve the benefits of being a Centurion Card Member as many of it's younger clients are seeking this sort of card amenity
What about Restaurants?
Similar to getting into Clubs, VIP Access, you should not expect special attention beyond what the Centurion Concierge can provide. The Centurion Concierge may be able to help you secure a reservation at an exclusive restaurant, have the general manager greet you and your party, but there is nothing particularily extraordinary here.
What are the travel benefits like?
Often claim the best benefit of being a Centurion Card member are it's travel benefits, most notably the airline and hotel elite status. This is due to the fact that Centurion Card Members receive complimentary and automatic elite membership/status in multiple airline and hotel programs, see the benefits guide for specific detail.
Will I be upgraded to first class?
It is likely that if you travel enough, you will be bumped as a result of having elite status on the airlines (Continental, US Air, Delta, and Virgin). You will also accumulate miles faster as following the typical rules for elite status on airlines.
Can I charter a private jet on my card?
Yes, but be ready to pay that balance in 30 days.
What celebrities have this card?
You can be assured that most celebrities with an American Express would have access to this card if need be, however, you may check our known cardholder page for more info.
Is there a card above the American Express Centurion card?
American Express Centurion card is currently the highest card available from American Express. There are cards issued by other banks under Visa and Mastercard (see alternate cards) that in certain cases require substantially more in assets (Sotheby's world Mastercard requires 2 Million in assets), however, do not carry the same universal recognition. In second place for recognition and status is likely the "White Visa" or Stratus Rewards Visa.
Where's the card reference in popular culture?
Check out our "In Culture" section, which aggregates sources on references to the Centurion Card in Media and Entertainment.
Anything questions we are missing or you'd like answered? Please feel free to comment/ask our team.