Barclay's launches their Visa Black Card competing directly with the American Express Centurion card. The Visa Black Card which is made out of carbon graphite, and includes similar benefits to the Centurion Card such as Priority Pass. Currently "Limited to 1% of US Residents" but criteria is currently yet to be clarified (when I called 12/2).
*1% cash back on purchases or $1 = 1 points that can redeemed for travel anytime
* 24-Hour Concierge Service
* Exclusive Rewards Program
* Luxury Gifts
* Patent Pending Carbon Graphite
* Annual Fee $495
Apply for the Visa Black Card Online
Update:
Introductory 0% Balance Transfer for 6 months
Standard APR = Prime + 9.99 =  Currently 13.99%
Cash Advances = Prime + 15.99 % = Currently 19.99%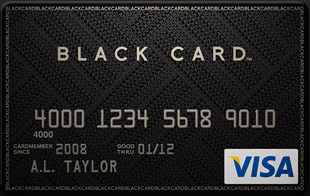 *The Exclusivity/Limited to 1% of US Residents according to Barclay's rests heavily on a Credit Score amongst other "personal financial information".
If you wish to know if you fit Barclay's criteria, e.g. limited to 1% you can Apply Online with Visa Here
For additional details, articles, reviews, hands on photos and more, go to our main Visa Black Card page.