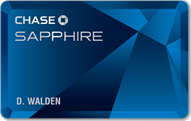 In the increasingly competitive luxury credit card space, JP Morgan Chase (largest US credit card lender) has just launched the Chase "Sapphire" card targeted at affluent Americans (households with incomes exceeding 120,000/year). The card is available as a Visa or MasterCard, and there is no pre-set spending limit, and the card includes a typical points/rewards program. Presented as tailored to customer need, Gordon Smith CEO of Chase's card division noted on an August 17th interview "If we cannibalize ourselves and move customers from one product to another, but we capture more of their business, then we're absolutely fine with that." It is, however, completely logical that Visa and MasterCard seek this market segment because it is the most profitable, and biggest growth area for them.
The net of it is that the American Express vs Visa/MasterCard debate has remained the same since the 1990s.
American Express notes that their cardmembers spend on average 3.5x more than Visa and 4.5x more than MasterCard cardholders.
Visa and MasterCard tout their worldwide and in the US acceptance at 8 million locations, vs 4.6 million American Express.
Kenneth Chenault noted ""Despite all the claims by Visa and MasterCard about success in the affluent segment, where it really counts — in the results — they haven't moved the dial at all."
The new Chase Sapphire Preferred Includes (in addition to standard benefits):
25% Travel Bonus (Points are worth 25% more when booking travel)
Annual Point Bonus (10,000 point bonus for spend exceeding 50,000)
1:1 Point Transfer to Airline/Hotel Programs
Enhanced Identity Protection (Additional 2k insurance coverage 5k total coverage)
No fee first year, $95/year thereafter (Chase Sapphire non preferred has no annual fee)
Chase Sapphire Includes:
Ultimate Rewards Points Program (1:1 dollar/point accumulation)
Double Points on Airfare via Chase Travel Booking Tool
Retail Gift Cards Starting at 2,500 points
No Blackout Dates or Travel Restrictions, Most Major Airlines
Pay with Points or Credit or Both
Trip Cancellation Insurance
Sapphire Preferred Exclusive Experiences (VIP Passes to American Idol, Food & Wine Classic in Aspen, Fashion Week, etc).
Zagat Review Access for Restaurant Reviews
Exchange Points for Cash
Chase Global LifeLine (Emergency Travel Assistance, Card Replacement, Medical Assistance, etc).
24/7 Concierge
Online Account Management
Travel Accident Insurance
Travel & Baggage Delay Insurance
Lost Luggage Insurance
Roadside Dispatch (Referral towing/locksmith services)
Auto Rental Collision Damage Coverage
Identity Protection (Insurance, 3 months of monitoring services, protection from unauthorized purchases)
Purchase/Return Protection (90 day replacement)
Extended Warranty Protection (up to 1 year)