You know Mase, right? It's Diddy's original boy. You know, before all of the name changes, back when Diddy was still just known as Puff Daddy, Mase joined Bad Boy records in the early 90's before Sean Jean clothes or the show Making the Band had even run one episode. His peak years on the label were in the late 90's. Well, ultimately, Mase gave up on the rap game. He fought his way to get the high status that he did. It was unclear as to whether Mase had a speech impediment or just had a nonchalant way of talking that was just cooler than the typical person. Fast-forward from the 90's to 2004 and Mase released his last record on August 24 of that year, before retiring to then study at Clark Atlanta University in Georgia and move on to getting his Doctor of Theology or Th.D at St. Paul's Bible Institute in New York. Mase now goes by the name Dr. Mason Betha. But let us not kid ourselves: we'll always know him as Mase the rapper!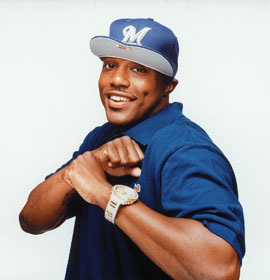 Lyrics from one of the tracks on that career closing record, entitled "Welcome Back," might be of interest to you. That is, if you're actually interested in the cultural aspects of America like we are,
I like the fact you're bourgie
The wrap of your doobie
The way you walk with big bags of Gucci
Forget just buying you rocks, I'll buy you blocks
Them things that you wanna shop, I'll get in stock
And it don't stop there, helicopter to the Lear
AMEX black card, shopper of the year
Around the world and back, with no Visa
I'll get it so hot in here, it'll give ya fever
The watch that I'm wearing right now Made in Geneva,
Wavy low Caesar, navy fou' seater
Girls is snobby, money is my hobby
Cats want to rob me, coupes is wide-bodied
So I'm like mami, move down a seat
Next thing I know, hat blew down the street
Never knew we could have life like this
So much dough, it'll put your life at risk
So, apparently Mase got out of the rap game without much risk, if you consider being devoutly religious to be risk-free these days.
At any rate, if you'd like to hear the above-referenced clip of the song in its true glory, feel free to click on the following.